What happens when you are reminded of your teen years? Happy? Jealous? Feelings of bitterness or regret?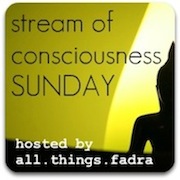 This was my 5 minute Stream of Consciousness Sunday post. It's five minutes of your time and a brain dump. Want to try it? Here are the rules…
Set a timer and write for 5 minutes.
Write an intro to the post if you want but don't edit the post. No proofreading or spellchecking. This is writing in the raw.
Publish it somewhere. Anywhere. The back door to your blog if you want. But make it accessible.
Add the Stream of Consciousness Sunday badge to your post.
Link up your post below.
Visit your fellow bloggers and show some love.
This prompt couldn't have come at a better time. This weekend my niece graduated high school...twenty one years later in the exact same spot that I walked across the stage. I was insanely emotional during the entire process. I have been thinking a lot about what I wished I would have known when I had that day in the sun. I wish I would have known that I would never forget that day and all the days that followed. I wish I knew that no matter what was the issue, I would have the strength to get through it. I wish I would have known that my closest friend that day would still be the person I talked to once a week. It was a period of growth for me during this time, and I am thankful for all that molded me. I am happy to be reminded of my teen years because thankfully the relationships I had that day still are so important to me....my boyfriend at the time, is still a dear friend and the boy who was part of our crowd and social circle is the man I have loved with all my heart for the past seven years. I can understand why this time would cause some anxiety but to me, they were the best of times.
Pin It