This is my 5 minute Stream of Consciousness Sunday post. It's five minutes of your time and a brain dump. Want to try it? Here are the rules…
Set a timer and write for 5 minutes.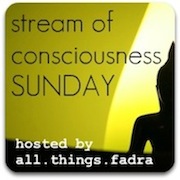 Write an intro to the post if you want but don't edit the post. No proofreading or spellchecking. This is writing in the raw.
Publish it somewhere. Anywhere. The back door to your blog if you want. But make it accessible.
Add the Stream of Consciousness Sunday badge to your post.
Link up your post below.
Visit your fellow bloggers and show some love.
Do you have a secret blogging life? Are you connected to your "real life" friends and family through social media? How does that affect your writing?
For the second week in a row, this topic hits home! You are scaring me! My business is a social media marketing company called Little Blog Dressin Daytona Beach, FL-it is a little deceiving-first, I am not a dressmaker, and I don't only just blog. But when I break it down to people that can wrap their head (or give a hoot) of what I do-I describe that it is almost like I have two jobs (lives)...Little Blog Dress is my company that pays the bills providing social media for your business through Facebook, Twitter, Online Reviews and Blogs. Me, Inc. starts at 5p...or sometimes at 5a when I wake up and well, lets be honest-when I get sidetracked throughout the day where I write on The Little Blog Dress-a blog about social media, career and healthy eating that is pink and fluffy and for women.
I live in Central Florida which is lately not known for much more than Casey Anthony and Trayvon Martin...there is not a ton of interest on growing social media trends. A handful, and I mean less than a dozen residents in my immediate area even has a presence on Twitter. My boyfriend's cousin always asks me if I am still doing that internet thing. To even talk about my blog brings daze and confusion to all who listen. Why do you do it? Do you make money? are the questions that come up.
So, I take it to Twitter and networks like SOC to build it and brand it and set goals to figure out where I want to take this little project of mine. I guess when I get a good contribution opportunity, I can show it to the non bloggers/believers and say SEE this is what I have been doing. Regardless,
my blog and writing brings me
an eternal joy, a network of amazing people and a sense of worth that little else does.
Pin It